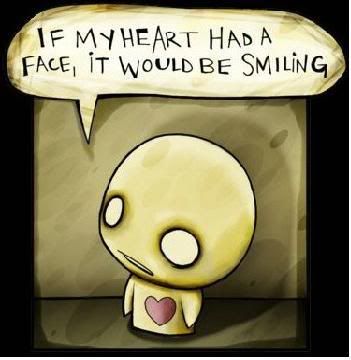 Little things can make you smile and bring that
'serene sigh
' back into your life! Yes its true!
The last few weeks have been hectic and a little stressful. I had ranted about it
here
and had thought it would ease the weight of my mind....and it did. The support I got from all of you shows that i'm not alone here and I can face whatever comes along...I just need to be open to change.
Yesterday, while I was complaining to a friend of mine about how God seemed to be too busy answering every other person's prayers...she said this "
Its all in order...maybe he was listening to my prayer today...next time i'll wait ,for you to ask before I do
". It was said in humour but there was so much of sincerity in her, it brought a lump to my throat, and then I smiled 'cos it was so cute.
But what gave me the grin was this little strip....sent to me by
Ceedy
. It was so sweet of him to think of
this
strip and me...and it made me feel so "puffed up"...oh yes, just like that
big mother hen
who runs after her lil ones in Tom and Jerry cartoons...Thanks Ceedy!! You sure brought back my silly grin...that had gone on its own vacation.
And what can be seen as coincidence,...a few hours after I read the comment in my blog , I get a mail from Preethi from
just a mother of two
. And what do I see..., She had written this:
This one was really worth forwarding--Calvin and Hobbes
A big Hi to all the moms,
This one sure struck a chord.
Have a great day.
P
oh yes!! Thanks Preethi...you don't know how good it felt on seeing that. More than the cartoon....it was her thoughts when she sent it across...
I know many forwards get sent....without a blink of an eye...but how many are actually siffed through...and sent to the right persons...
This Lil smarty pants Calvin sure does those small jigs to my heart....oh yes!!! there is that bit of Calvin in me too...and his mom is present in all of us mothers...
and its so heartening to hear him say all those nice things about his mom.. (leaves me with hopes for my son)
Sometimes, there are people you meet across your life...some who leave that imprint, inspite of not treading too hard. They never expect anything in return nor do they ask for that bit of your smile. It takes just a blink of the eye or just a single hi...and there is that connection.
You might never talk with each other regularly, but they are there with the same cheer that you have for them when you meet for a while. I am so blessed to have so many such friends out here...and I must say...I really treasure all of them.
Have you ever felt at peace sometimes...just thinking of someone? Just hearing a hi or even better having spoken to the same person, precisely at the same moment you were thinking of them?? Has there been a moment when a face or name flits past your eyes and you realise you're caught smiling?????
Have you ever said a thank you even if it was silent!? Try it...you'll catch yourself smiling.
PS: Isn't it just like me to forget??!!!!!!Thanks to all you out here.....this was my 100th post....and it went past me and I hadn't even noticed...aaawww...